STERLITE has used this month's FTTH Conference 2023 (Apr. 18-20) in Madrid, Spain, to unveil its new 180-micron optical fiber. STL says its new 180-micron G657 A2 fiber offers both bend insensitivity and backwards compatibility to ease deployment. The company displayed a 288-fiber microcable in its FTTH Conference booth that can be deployed in 8-mm ducts.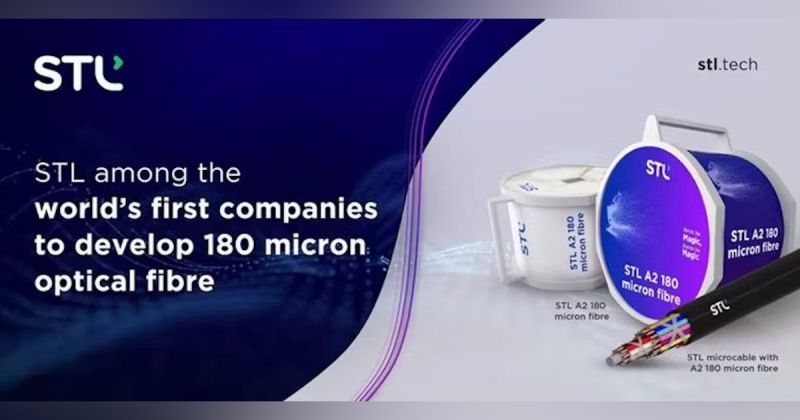 This high-density microcable provides the best of both worlds to the operators and installers. The 180 micron G657 A2 fibre combines bend-insensitive properties with a fully backward-compatible cable design which makes it a "ready to deploy" innovation in the optical industry.
As the service providers densify the network with more fibre, duct space will be a precious asset. That is where STL's high-density microcable will help operators to pack more capacity in limited duct space, thereby reducing costs and deployment times. Remarking on the compelling need for this product, Jitendra Balakrishnan, CTO-Optical Networking, STL said – "If it's a problem for the end customers, operators or installers – it's a problem worth solving for us. We need to make extremely smart use of the limited duct space in high and medium-density areas, for rollouts to be fast and cost-effective. Our product is going to deliver just that."
This announcement comes in after a series of product innovations by STL. Recently, the company developed India's first multicore fibre with 4X capacity. STL was the first company to launch Stellar™ – an A2 bend-insensitive fibre with full backward compatibility, and amongst the top 2 companies globally to bring IBR (Intelligently bonded ribbon) cable technology into mainstream networks.
Along with the marquee 180 micron fibre and microcable, STL is also showcasing its integrated optical fibre offering at the FTTH Conference 2023. STL's pre-connectorised optical connectivity kits – OPTO-BLAZE and OPTO-BOLT – come with plug-and-play capabilities for faster and easier installation and its OPTO-DOP's is another unique design that eliminates the need to provision traditional cable coils at drop locations. It is a perfect solution for hassle-free, on-demand connectivity.
Speaking about this development, Paul Atkinson, CEO-Optical Networking, STL, said, "The amount of fibre the world needs is immense. R&D and innovation in fibre design will be, according to us, the most important driver for future-ready networks. We are intensely focused on product innovations that will enable fiberisation in a scalable, faster and cost-effective way. STL's high-density microcable and integrated optical connectivity offerings will deliver a lot of value for our customers. I am also very excited about the fact that it will significantly reduce the plastic in the ground and contribute to our customer's sustainability goals."