We invite you to Opole on April 19-20, 2023, where you will be able to meet us in a unique formula of B2B networking sessions and during the entire event and accompanying events. This is a great opportunity to talk about potential cooperation with manufacturers such as NTET Composite and BDA Connectivity offering products for the very interesting industrial and automotive market, which is strongly developed in our agency's product portfolio.
Automotive CEE Day is one of the most important B2B meetings in Central and Eastern Europe in the purchasing segment for the automotive industry and an excellent opportunity to meet the most important automotive companies in one place and at one time, both representatives of car concerns and TIER 1 suppliers. edition, is a unique interactive platform for arranging B2B meetings, thanks to which it is possible to select partners for talks very precisely. Automotive CEE Day 2023 is not only B2B talks, but also the opportunity to participate in the exhibition (67 stands), which is an excellent opportunity to promote the cooperation services offered, as well as build brand awareness among the most important representatives of the automotive industry.
NTET Composite – elements made of glass fiber reinforced resin composites (SMC/GRF/RTM)
for buses, trucks, rail and special vehicles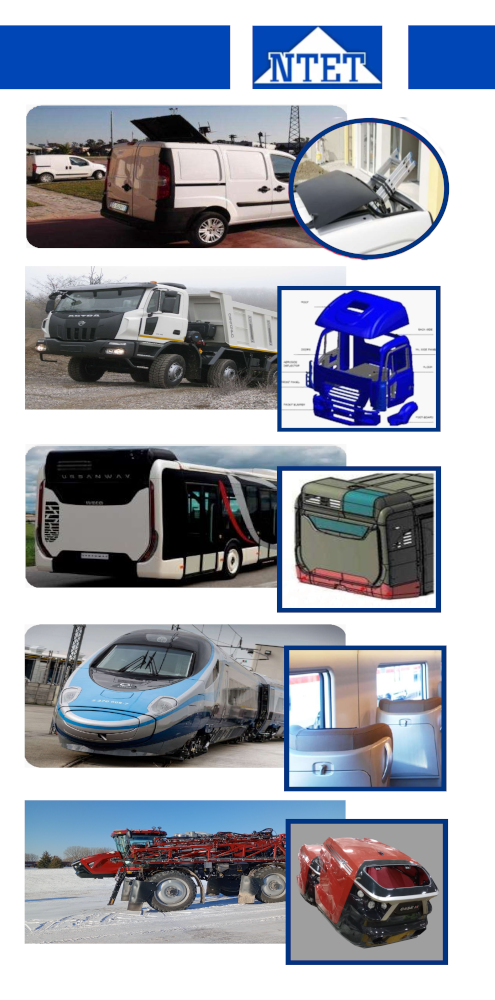 NTET Composite (N.T.E.T. Spa) is part of the Italian industrial group (NTET Group), which is a world leader in the design and production of industrial parts made of various types of composite materials. With the main factory in Piacenza (Italy), NTET has in one hand all production technologies and processing of composites containing glass fiber reinforced resins (SMC/GRF/RTM) and carbon fiber (C-SMC), including injection and compression molding, pultrusion and centrifugal molding .
Thanks to the possibilities of assembling metal subassemblies and mechatronic components – the main markets of NTET Composite as a Tier4&3 supplier for the automotive market are: automotive (passenger and luxury cars), mass transport (buses, trucks, trams and trains), agricultural and specialist vehicles, including military market. A variety of composite products (painted or not) are directed to the automotive market, from small to very large parts of vehicle bodywork and covers, including: high-quality window frames for rail vehicles, engine covers, chassis and body parts for agricultural vehicles, aerodynamic fairings, body parts and covers of buses and trucks, elements of ventilation systems and many others (bonnets, fenders, bumpers, door panels, roofs, spoilers, aerodynamic kits, tank protection, battery and accumulator elements), which can be made in NTET technologies. The rest of the component production is all kinds of power distribution systems and composite poles for the needs of lighting, energy and telecommunications (including FTTH), products for the railway signaling sector and much more.
The NTET Group has implemented and applies many quality control systems: ISO9001, ISO14001, IATF16949, and among the company's clients there are many global brands producing cars, commercial vehicles and rail vehicles. In Poland, the company is represented by the trade agency Syntelco.
BDA Connectivity – specialist cables and antenna systems for the automotive market
BDA Connectivity (Germany) for over 60 years in Europe produces special copper and fiber optic cables that are optimized for a given area of application in the automotive industry (UN-R118), marine (GL-DNV, UL), audio systems (CPR: Eca ) or broadband and telecommunications (CATV/RF/LAN/PSTN). The novelty is a range of high-quality external and internal antennas and passive components for the 4G/5G telecommunications market, also for automotive and smart city applications. The "CoMeT" measurement system developed by the company is an important element for measuring the effectiveness of shielding of cables, connectors, cable harnesses and components, and the measurement range is from DC to 9 (18) GHz. The through impedance and shield attenuation of communication cables and cable assemblies can be measured with one test setup.
We are dedicated to serving our customers in the electrical and electronics industries, telecommunications networks, electrical wholesalers, automotive suppliers, audio and television studios, medical technology and science. In Poland, the company is represented by the Syntelco agency and the distributor – 4PS.pl.