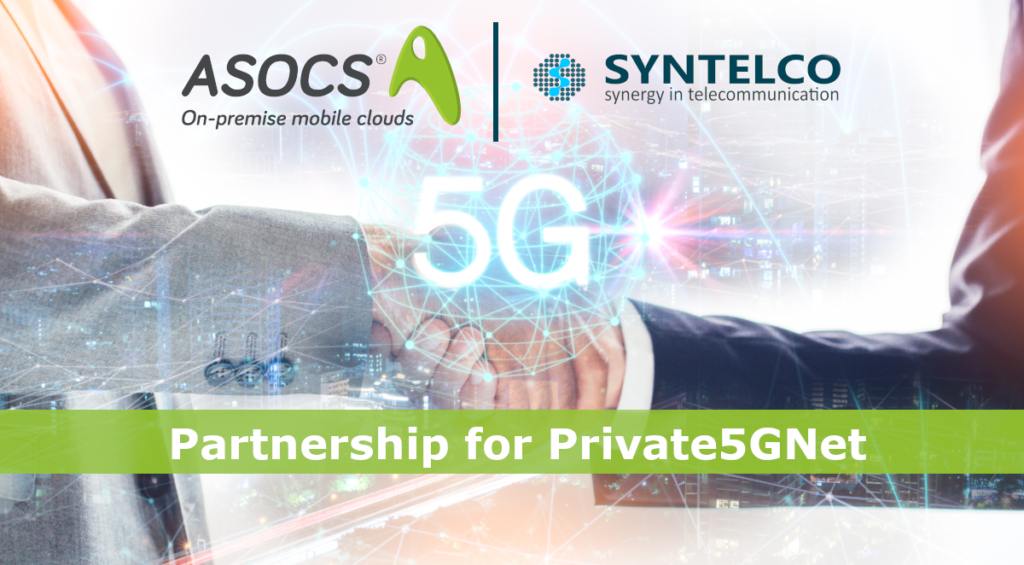 ASOCS global Private 5G Network Software provider and SYNTELCO Representative Agency announce their partnership in order to offer full scope ecosystem dedicated to end-to-end OpenRAN network solutions for SmartCities, Industry 4.0, and Smart Manufacturing in Poland.
Syntelco will be responsible for the localization of the ecosystem of hardware products and software solutions established by ASOCS for Private 5G based networks, leveraging the knowledge and many years of experience in the field of telecommunications combined with good knowledge of the local market. The goal will also be to create sales channels and appropriate collaborations with integrators, recipients, and developers of 5G/IoT applications using environments based on Private 5G Networks, in particular utilizing OpenRAN.
ASOCS' software CYRUS® Private 5G is designed as a natural P5G on-premises Mobile Cloud Platform to meet the demands of the Smart/IoT/OpenRAN market. The unique CYRUS® solution is based on a cloud SaaS business model that is scalable, modular, and flexible, which can be run on standard hardware and managed like any other IT system without the need for specialist knowledge of mobile networks. CYRUS® uses the O-RAN standard, which means flexibility with any manufacturer's 7.2 Fronthaul compliant stand-alone RU (indoor and outdoor) and any Next Generation Core (NGC) vendor. More about CYRUS® Private 5G solution: click here to see movie
The combined aims of ASOCS and Syntelco are to provide Industry 4.0 focused solutions such as Connected Mobility, Assisted Reality, Real-time Data Analysis, Positioning Services, IoT Device Control Services for manufacturers and cities who are planning to become Smart soon.
The upcoming regulatory decisions regarding the release and arrangement of the rules for the band intended for Private 5G Networks in Poland means that we will soon be able to implement our combined robust solutions in practical implementations and pilot programs. In this field, we are also open to extensive cooperation with startups developing their own solutions and applications focused on Open5G networks.
Stay tuned for more news from us soon.
---
ASOCS is empowering industrial enterprises to connect their production lines to edge applications by providing them with a cloud-based private 5G network and a scalable Software as a Service (SaaS) model. CYRUS® 5G software by ASOCS enables enterprises to run their networks on their own terms using standard hardware, just as they do with their IT infrastructure. ASOCS enables companies to easily implement private 5G networks and benefit from high network reliability, enhanced security, and low latency.
SYNTELCO is a modern trade agency representing many well-known foreign suppliers in Poland and Central and Eastern Europe in the Multi-Vendor Representative Agency (MVRA) model. The roots of the company come from the fiber optic and structured cabling industry, but the MVRA model, knowledge and market experience it possesses seem to be a natural way to use the acquired knowledge, contacts and business ideas also on the market of new technologies for the mobile solutions market, with particular emphasis on Private5Gnet applications for the Internet of Things (IoT), smart cities (SmartCity) and in the services offered by GSM mobile operators.