We are pleased to announce that AerialLite-3, self-supporting, overhead fiber optic cables STERLITE ADSS-ZXOTKtsdD 12-144F G657A1 with a design 4 and 12 fibers per tube – have successfully passed the tests and certification procedure at Orange Lab and we have obtained a declaration of compliance of the cables with the requirements of the standard industry standard of Orange Polska ZN-OPL-005-2/17 – Optotelecomunication lines. Fiber optic cables. Terms and tests methodology.
We believe that this document will help our clients to use these cables more widely in all projects related to high technical expectations or even required certificates, whether related to Orange investments or not.
AerialLite-3 is the second Sterlite cable certified to the Orange standard after the MicroLite ZM-XOTKtsd 12-144F G652D microcables. Together with the volume of over 30,000 mm of fiber optic cables sold to Orange and the Polish market in the past period, the issued certificate additionally assures us of the high quality and reliability offered by this group of products.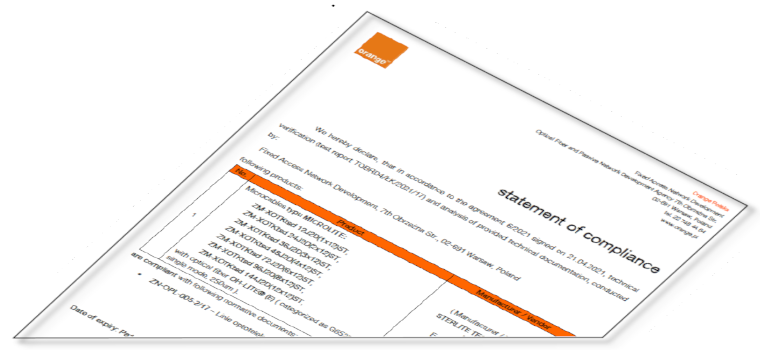 Technical datasheets of microduct cables MicroLite ZM-XOTKtsd 12-144F G652D: download
Technical datasheet of ADSS cables AerialLite3 ADSS-ZXOTKtsdD 12-144F G657A1: download
If you are interested in obtaining a copy of the certificate of compliance with the Orange standard or technical support in the field of technical acceptance procedures for projects, please contact our Sales Department.
About STL – Sterlite Technologies Ltd:
STL is a leading global optical end 2 end (fibre, fiber optical cable, connectivity equipment) vendor and digital solutions company providing advanced offerings to build 5G, Rural, FTTx, Enterprise and Data Centre networks.