Optotec's µODC (microODC) range of micro size fibre optic splice closures. The highly versatile µODC closure has been designed specifically as small demarcation / connection point for FTTx Networks in mind.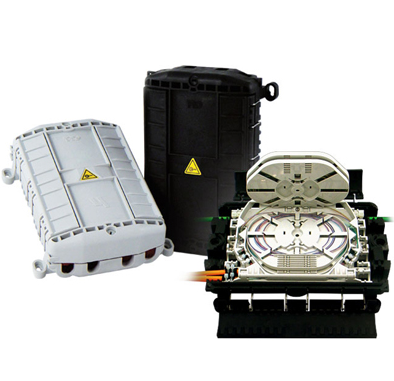 With a volume below 2 litres (240 x 155 x 65mm [HxWxD]) allow for up to 96 fiber splices, high impact resistance (IK10) and ingress protection (IP68) its ideally suited for installation in manholes, direct burial, aerial, pedestal and facade applications in the outside plant environment. Its mechanically sealed and is also offered with the optional pressure valve and grounding point.
µODC closures are available in two colours, black or light grey allowing end users an aesthetic choice for suitable deployments to blend within its surroundings.
Depending on the application the µODC can be used in different configurations, in-line, butt or tap-off with the ability for quick re-entry. µODC is easy to open thanks to its latch style close mechanism, cable entry sealing is controlled with seal inserts, four entry/exits are located at the top and bottom of the closure.
The fibre management system offers cable fixation, protection of the tubes and positive routing for the fibres with controlled minimum bend radius of 30 mm throughout the whole system. µODC closures utilises Optotec's SAMR splice trays.
Product Key Features
IP 68 (per IEC 60529)
IK 10 (per IEC 62262)
Compatible with G.652D and G.657A series fibres
High quality thermoplastic material
Splice capacity up to 96 fibres
Micro size with below 2 litre volume under 240 x 155 x 65mm [HxWxD]
Main cable entry 4-16mm
Standard configuration cables in/out – 2 feeders + 18 drops