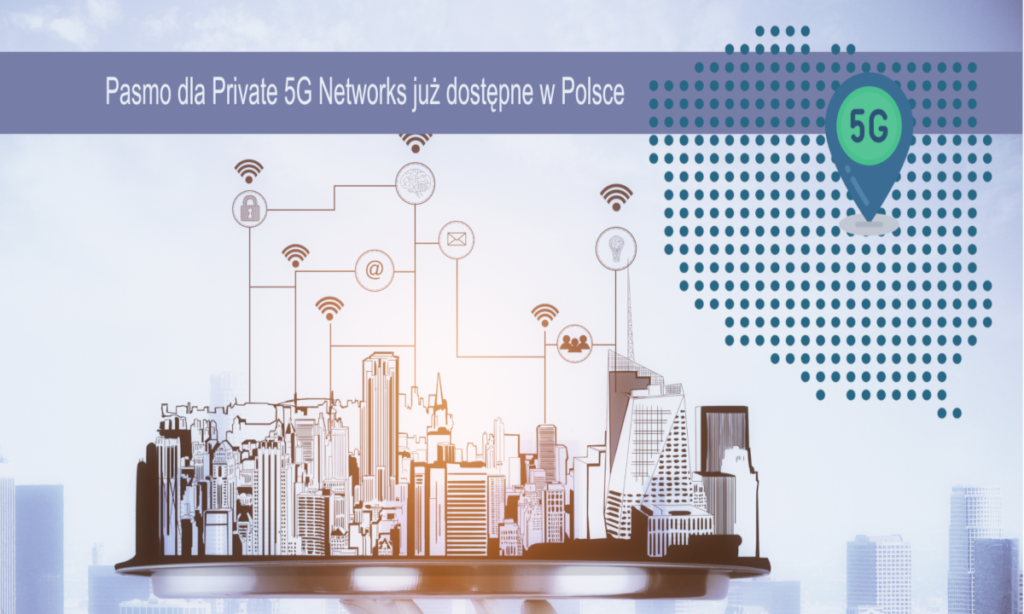 In accordance with previous announcements and after consultations, the President of the Office of Electronic Communications (UKE) issued a regulation about the frequency management plan for the 3800-4200 MHz band assigned to the usage of Private Mobile 5G networks in Poland (Private 5GNet).
The ordinance was published in Dzienniku Urzędowym UKE.
Private networks, thanks to radio part low delays and edge computing, are predisposed to applications in local 5G radio networks – therefore they are particularly suitable for applications in areas related to new generation industrial automation (Industry 4.0), for measurement and control at municipiality infrastructure (SmartCities / IoT) or control and monitoring of devices at logistics terminals (container terminals, marshalling yards, etc.).
Therefore, in these areas, our regulator has provided for the possibility of reserving frequencies by entities of Local Government Units (allocated 3800-3900 MHz band) and by other entities (in the 3900-4200 MHz band). The regulation introduces some restrictions on the power of devices and antennas, so it is worth studying it carefully. In addition to the above, the most important assumptions regarding the development of the 3800-4200 MHz band are:
applies for blocks that are multiples of 10 MHz, but not more than 100 MHz in total;
one entity may apply for a band in the area of a maximum of 20 communes if it wants to provide public telecommunications services, but in the case of using the band for its own needs, the commune limit does not apply;
permits will be issued for the use of low or medium power devices and with limits on radiated power, gain and maximum height of antennas;
permits for low-power stations will allow the location of any number of stations within a radius of 50 meters from the designated point; medium station permits will cover a single base station;
due to the protection of the band above 4200 MHz, in which radio altimeters are widely used in aviation, the use of medium power devices (outdoor) will not be possible in the 4000-4200 MHz range;
obtaining a permit will involve a fee depending on the location and in the amount resulting from the regulation of the Council of Ministers on annual fees for the right to use frequencies and a stamp duty for issuing a permit.
obtaining a radio license requires submitting an appropriate application to the President of UKE. You can also apply for a decision to temporarily use a radio device to conduct research, tests or experiments. Permits will be processed on a "first come, first served" basis.
The long-awaited formal regulation along with the popularization of Private5GNet physical layer management solutions, in particular those based on radio equipment in the OpenRAN specification and cloud systems with distributed processing as Cyrus On-Premise Mobile5G Cloud offered by our partner – the Israeli company ASOCS – will allow customers to become independent from various industries from major technology suppliers or telecommunications operators to be able to build a fast, own private 5G Stand Alone network (with its own radio devices).
The constantly growing range of specific applications and solutions using new technology in specific industry areas will certainly accelerate customer interest in Private5GNet networks. These trends are confirmed by the number of pilot projects in Poland, specific implementations in countries where regulation was implemented earlier, as well as the results of research done by consulting companies.
For example, preliminary analysis by Dell'Oro Group from its July "Private Wireless Advanced Research Report" shows that total revenues from private wireless RAN networks, including traditional private base stations and small cells, increased by approximately 60% year to year in the second quarter of this year. This growth was supported by positive trends across both incumbient and smaller RAN equipment vendors. Analysts predict that by 2027, revenues from private 5G RAN networks will exceed $1 billion.
In turn, the "Reimagining Industry Futures Study" done by the consulting company EY provides further optimistic conclusions. According to the study, 57% of surveyed organizations intend to invest in the 5G network within three years, using this solution mainly to improve remote working conditions, optimize processes and systems, as well as to stream ultra-HD video. In the current investments of companies, the priority is robotics with automation, analytics and AI, but in the next three years this trend may reverse in favor of 5G technology, quantum computing, edge computing and the Internet of Things. Even though this purchasing option was not the first choice of the survey respondents, half of them (50%) consider to build their own 5G network by purchasing their own frequencies. Researchers pointed to legislative problems (access to frequencies) as barriers to the development of private networks. Our own market experience shows that future users' fears of implementing complex 5G radio network core systems (technology) or becoming dependent on one technological supplier / operator should also be taken into account.
All these needs are consistent with the current capabilities of Private5GNet systems. Our regulator has just broken the legislative barrier, technological barriers are eliminated by the use of cloud systems integrated with core support for 5G systems (such as Cyrus) and working in an easier-to-implement SaaS formula, and technological independence and no restrictions on expansion – enable the openness of these solutions to hardware radio that meets OpenRAN open specifications.
As you can see, there are already alternative solutions and legislation does not stand in the way, currently applications and implementations in specific applications for specific industries are needed – that is why we constantly invite customers interested in testing and implementing Private5GNet solutions in their plants or cities, as well as companies implementing their own industrial solutions Industry40, IoT, SmartCity to jointly build solutions using the Private5GNet physical layer based on the Cyrus On-Premise Mobile5G Cloud solution from ASOCS.
---
More about ASOCS www.asocscloud.com
ASOCS is empowering industrial enterprises to connect their production lines to edge applications by providing them with a cloud-based private 5G network and a scalable Software as a Service (SaaS) model. CYRUS® 5G software by ASOCS enables enterprises to run their networks on their own terms using standard hardware, just as they do with their IT infrastructure. ASOCS enables companies to easily implement private 5G networks and benefit from high network reliability, enhanced security, and low latency.
More about SYNTELCO www.syntelco.pl
SYNTELCO is a modern trade agency representing many well-known foreign suppliers in Poland and Central and Eastern Europe in the Multi-Vendor Representative Agency (MVRA) model. Syntelco will be responsible for the localization of the ecosystem of hardware products and software solutions established by ASOCS for Private 5G based networks, leveraging the knowledge and many years of experience in the field of telecommunications combined with good knowledge of the local market. The goal will also be to create sales channels and appropriate collaborations with integrators, recipients, and developers of 5G/IoT applications using environments based on Private 5G Networks, in particular utilizing OpenRAN.