Composite technologies have been known for a very long time and in the case of composite poles reinforced with glass fibers (GRP/FGP) solutions have been present on the global market for at least 40 years, but in Poland this technology is introduced with a considerable delay due to the hegemony of wooden poles and concrete poles.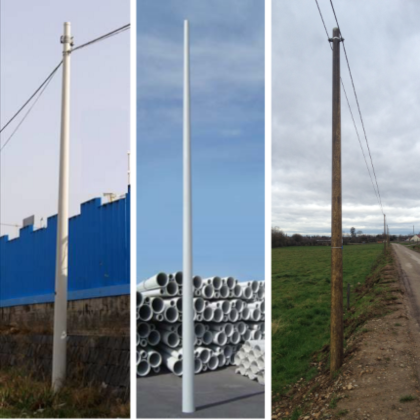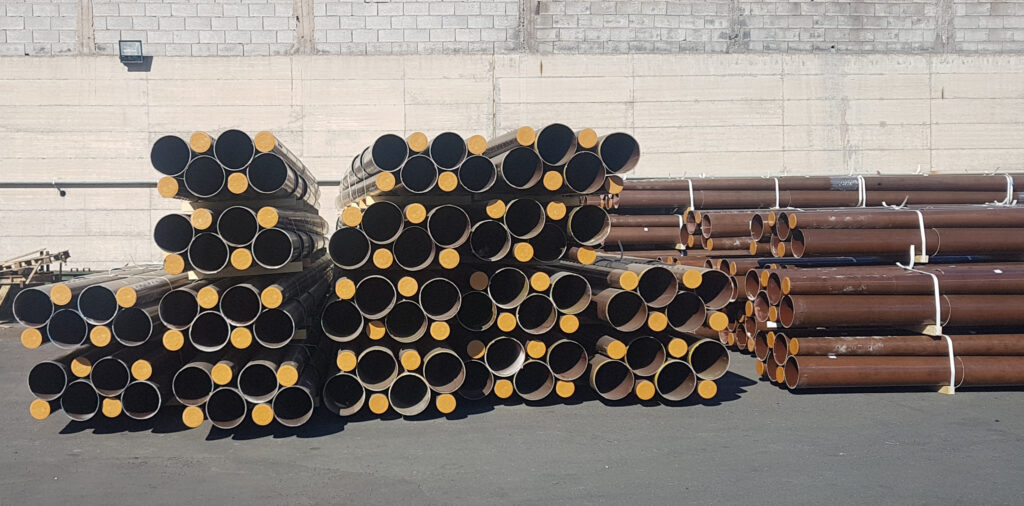 Composite poles show their economic advantages directly in opposition to heavy concrete centrifugal casting poles used in the power industry, to doubled telecom poles (twin or Atype) made on the basis of wooden poles or concrete poles and in opposition to metal lighting poles.
However, it is mainly due to technical advantages that influence into a comparable or lower total investment cost – more and more often it is possible to use composite poles at overhead networks of Polish telecommunications operators as an alternative to concrete and wooden poles. Among the characteristics of composite poles that give this technology advantages over current pole solutions, the following features can be listed:
Resistance to climatic conditions – poles made of polyester and glass laminate do not corrode and do not change their properties in a salty, acidic and humid environment, they are chemically resistant and environmentally friendly. The service lifetime is defined as up to 50 years.
Mechanical strength – the specific strength of the laminate is higher than that of steel, and the parameters of the poles can be freely shaped to meet the requirements of the project, in accordance with the Polish Standard for wind load zones and tensile loads coming from cables or other devices mounted on the pole.
Low weight – the weight of composite poles is several times lower than the weight of steel, concrete or wood poles with similar mechanical parameters. Due to the low weight, these poles contribute to minimizing the costs of transport and installation, which can even be done manually in most cases.
Dielectricity – fiberglass composite poles are dielectric, eliminate the risk of electric shock and the need for costly grounding of the reinforcement structure required for concrete poles.
Hollow inside – the possibility of routing cables inside the pole and making holes for the cable lead-thru or even an inspection door for cable and electrical accessories (factory assembled or on-site, after consultation with the Technical Department)
Easy installation – they can be buried directly in the ground in a ground hole made with a drilling rig, in an open trench or fixed with foundation foams. They can also be attached to bridge structures or special concrete foundations. The large diameter bottom base increases the lateral resistance of the pole when it is buried in the ground.
A wide range of colors – the poles are molded in the selected color of resin (the standard is gray RAL7035). They are characterized by high and long-lasting UV resistance. The surface can be finished in matt or high gloss or in several wood-like versions.
Vandal-proof – it is possible to clean graffiti or stickers, as well as make additional anti-graffiti protective layers. The posts are impact and fire resistant, and minor surface damage can be easily repaired with commonly available putty chemicals.
Ecology – low weight and lower requirements for means of transport allow for a significant reduction in the carbon footprint compared to alternative technologies, especially concrete ones. The poles are not hazardous materials and do not require special treatment, and as waste they can be treated as waste from typical plastics or be recycled and added as a reinforcing agent to concrete composites.
Passive safety – composite pillars break as a result of a vehicle impact, eliminating the danger to passengers
In the described field, the Italian company NTET has been a tycoon for 30 years in the production of poles made by machine using the thermosetting method of polyester resins reinforced with glass fiber fabrics assisted by centrifugal casting or in pultruded thermoforming technology, offering circular section or square pultruded profiles or conical shape composite poles for applications in telecommunications, CCTV monitoring, lighting of roads and squares and professional energy. It offers its solutions to many well-known operators on European markets, and recently also managed to win significant contracts on the Polish market.
Among the solutions offered, you will find composite NTET products dedicated to applications in telecommunications and CCTV monitoring, such as:
conical shape composite telecommunications poles FGP-RO (2.2kN) and FGP-R1 (4kN) with a length of 7/8/8.5/9/10m and a top diameter (160mm) and FGP-Lxx series poles with lower working load and top diameter.
circle or ribbed shape SLVxx composite pultruded posts with a diameter of 60/75mm and a length of 1-6m, suitable for poles supporting subscriber connection cables or shorter (1-3m) roof poles mounted on a subscriber's house.
The offer for telecommunications is being extended with other types of poles with parameters and functionality dedicated to the application for which they were designed. In particular, they will be:
conical shape composite lighting poles FGP-PLVxx with a top diameter of 60mm/75mm or 120mm adapted to the assembly of lighting lamps and top brackets with lengths from 3.6m to 13m with or without openings and inspection doors, supplemented with a number of mounting accessories and electrical equipment for cable joints mounting inside the pole
dedicated conical shape FGP-CCTV surveillance poles made on the basis of the FGP-Rxx model with appropriate openings that take into account the needs of camera systems
ARECxx composite pultruded poles with cirlce or square shape and diameter of 60/75/105mm or 120/169mm and a length of 1-6m intended for fence posts, antenna mast pipes, road sign posts, traffic light posts, car charger connection poles, poles supporting crops (e.g. hops) apple tree), winter signal poles and other replacements for metal piping systems
circle shape RAILxx composite pultruded poles intended for railway applications as station and line semaphore poles
As anyone can see, the range of applications of composites in many industries is quite wide and for each application it is possible to select or design a composite pole with the necessary mechanical parameters covered by the required tests confirming its properties. For more details, please contact the Sales Department of our agency or our Sales Partners from sales channel in Poland.