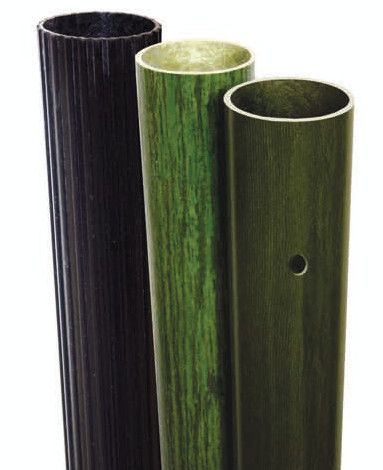 Among the many applications of composites, it is worth mentioning their application as energy and telecommunications poles, which already present also on the Polish market. Today we would like to show interesting applications in telecommunications construction of the smaller brother of composite poles, which are composite posts with a round profile, the SLVxx series, produced by our partner, NTET.
SLVxx posts can be made in diameters of 60, 100, 120, 169mm and lengths up to 6.5m and with walls thickness from 2.5mm to 10mm. They can have a monochromatic, ribbed or wood-like surface structure and can be installed directly in the ground, on a wall or on foundation posts.
In particular, in telecommunications, the SLV60 version will have the most applications. Thanks to its strength and stiffness, as well as resistance to environmental conditions, low weight and dielectricity, it is well suited for 4-6m poles supporting subscriber connection cables or shorter (1-3m) roof poles mounted on a subscriber's house. In these applications, it will be less expensive than available metal pipes, but it also offers dielectric solution and resistance to rusting.
Other applications of SLVxx and ARECC posts are very wide: fence posts, antenna mast pipes, road sign posts, traffic light posts, railway semaphore posts, car charger connection posts, poles supporting crops (e.g. hops, apple trees), winter signal poles and other metal replacements pipe systems.
If you are interested in using SLVxx composite seatposts in your own applications and projects, please contact our Sales Department. We are also looking for distributors and resellers interested in participating in building a sales channel in Poland for these products in individual industries.